C.P. Bourg & Xerox voted Reader's Top Choice Product "Output Devices"
Among over 185 products, the Xerox iGen 150 with Automated In-Line C.P. Bourg BSF + BPRF + BB3202 PUR-C + CMT-330C Perfect Binder Solution won the 3rd annual Quick Printing Readers' Choice Top Product "Output Devices - Color Digital" category Award organized by the magazine MyPRINTResource.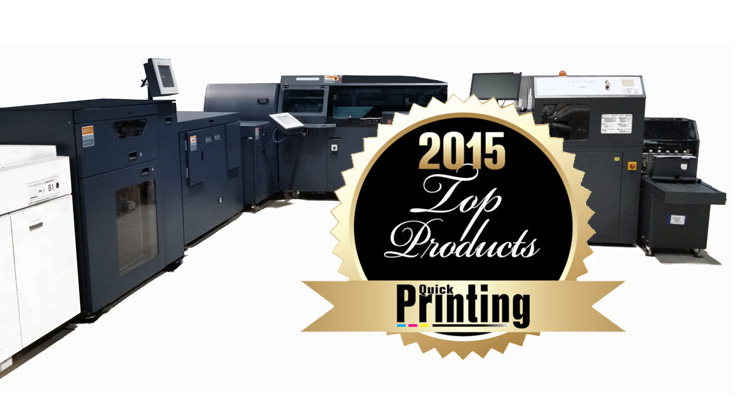 In the 3rd annual Quick Printing Readers' Choice Top Products Awards competition conducted in mid-2015, the commercial printing industry gave their opinion and voted for what they consider to be the most significant products introduced between January 1, 2014 and March 31, 2015. The top winners were products which had the strongest impact on their businesses and created the most excitement in the industry. There were four main categories of products which includes "Output devices".
Recognition from the commercial printing industry about the C.P. Bourg and Xerox Perfect Binding Solution:
"The Xerox iGen 150 Press with the C.P. Bourg BB3202 Perfect Binder and new PUR-C is the industry's first fully automatic in-line/near-line PUR binder, designed to produce softcover books on demand – from single or multiple digital, analog or mixed workflows. The BB3202 comprises a modified Bourg BB3002 single-clamp binder and Bourg BBC transfer module to compile sheets or single-fold signatures and transfer stacks and covers into the binder.

Xerox Document Finishing Architecture (DFA) seamlessly connects the finishing modules to the iGen 150. Options include the Bourg dual-mode BSF Sheet Feeder to produce books from both the In-Line iGen press, as well as Off-Line from the other print devices; the In-Line Bourg BPRF Perforating Rotating and Folding module creates signatures from larger format printed sheets; and an In-Line Three-Knife Trimmer CMT-330C from Challenge – ready to pack for shipment.

Combined with the iGen 150, the BB3202 PUR-C automatically gauges spine thickness and sets jogging, power milling and notching, gluing, scoring and suction cover-feeding. The solution can produce 350 unique books per hour with finished books sizes from 3.9 x 3.9 inches to 15.15 x 12.6 inches, and spine thicknesses up to 2.36 inches stacked for trimming off-line, or automatically routed to optional three-sided trimming."
Click

here

to see the video!