University of Sheffield - It transformed the way we work!
The University of Sheffield is one of the UK's best-performing universities. It is consistently ranked among the world's top 75 universities, and in 2011 was named University of the Year in the Times Higher Education Awards. It caters for around 26,000 students from over 100 countries, and employs over 7,000 staff.
The University's on-site print service can also boast some impressive statistics. As well as having approx. 8,000sq ft. of floor space and 20 full time staff, the service is set to produce 10 million clicks this year on its digital production equipment.
The department offers a comprehensive service to students and staff, as could be expected from a department known as "Print & Design Solutions." These solutions include all manner of printed products. Print and Design Solutions Manager Paul Tetley says: "We are the main print provider to the University, we deal with everything from a single A3 colour copy up to a 50,000 brochure run, wide format display print, thesis binding, stationery and more besides."
The Challenge
A high proportion of the university's throughput is in multipage documents for a wide variety of purposes, the majority of them requiring binding. When Mr. Tetley started his job managing Print and Design Solutions in 2009, the service offered saddle stitching, perfect binding, comb binding and wire-o binding, but he says the service was struggling to provide a professional finish for documents in the higher pagination range.
"When course fees were introduced, the University's strategy was to enhance the student experience, and offer greater professionalism. I was appointed partly because of my background in commercial print and one of my first tasks was to look at the level of quality across the whole range of documents we produce - and it was clear that the higher pagination jobs such as course packs and lecture notes needed improvement. They tended to be too thick for our Duplo binding line to comfortably handle, and the cost of perfect binding was expensive for small volumes."
The department's solution back in 2010 was the Watkiss PowerSquare 200, which was installed as an In-Line machine on the department's digital press. The Watkiss PowerSquare stitches, folds, spine forms and trims in one unit. The resulting books have a square spine. It is able to accommodate a far higher pagination than rival machines.
"Having square back system meant a more cost effective finish for the thicker books we produce, they looked better, the binds were more secure, and the books were easier to handle upon completion,"says Mr. Tetley.
A more recent decision made by Mr. Tetley and his team meant the removal of his existing printers – including the In-Line PowerSquare – in favour of four new machines. "We made the change in order to improve productivity and more flexible when it comes to materials. Again, this is a move which is all about improving both our working methods and the quality of our finished products," says Mr. Tetley. "It's not just about providing better course materials to the various departments, it's about presenting the University's image externally. We are increasingly being asked to produce colour work, so we now have two colour and two mono machines. The question was, what to do about SquareBack binding?"
The Solution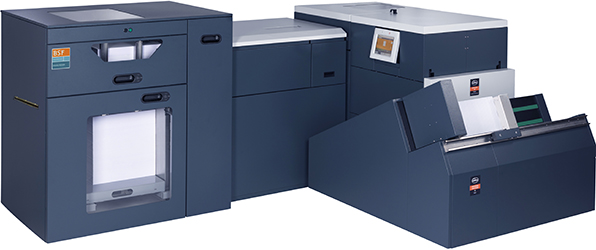 Having become accustomed to the benefits of SquareBack binding, Mr. Tetley was keen to have a Watkiss PowerSquare at his disposal, but the new press-line up and a change in work profile meant a change in thinking.
"Stock flexibility was an important factor, but the big difference is colour," he says, "typically we are now producing separate colour covers for our high pagination documents, which are black-only inside. Obviously we needed a solution with cover feeding, offering a more flexible approach."
The solution was the Near-Line version of the PowerSquare, fitted with the Bourg Sheet Feeder (BSF). The BSF feeds up to 10,800 sheets per hour - the operator wheels a pallet of printed paper from the printer to the feeder, while a separate section feeds covers.
"It's very cost effective because the time spent setting up and monitoring is minimal," says Mr. Tetley.
The speed of set-up is exceptional, according to Mr. Tetley. "There's nothing quite like it on the market," he continues, "there's no warm-up time, it's very 'press and go', you just set up the job parameters on the touch screen and that's it. It offers great flexibility not just on stock thickness, we normally produce between A4 and A5, but the specification is much wider."
A closer look at the PowerSquare's specifications offered Mr. Tetley even more to enthuse about. "It's got a very compact design meaning the floor space requirement is minimal, and the working area required around the machine is low," he says. "On top of that, it runs from a single phase 13 amp power supply. Plus there are so many failsafes on it, you have to call it idiot proof!"
The Result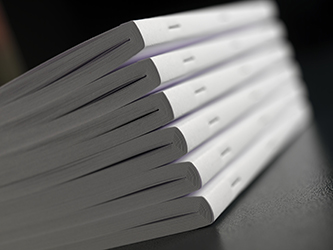 "The installation process for the Near-Line PowerSquare with the Bourg BSF was brilliant and the training has been exceptional," says Mr. Tetley. "If we've had any issues, the response from Watkiss and Bourg has been first class; generally if we ring up they are here the same day."
He continues: "It's transformed the way we work. We can print books in book block form, while printing the covers separately – this keeps the presses running at optimum speed. We can then set the binding line up, and once we've checked the first two or three copies the operator can walk away and leave it running. We just have to keep loading it occasionally."
"Typically perfect bound jobs have to be trimmed offline, but not with the PowerSquare 224 with the BSF; we can just put the sheets in, it trims the fore edge and tidies it up. Sometimes we will pre-score the thickest covers if the job requires it, but in the vast majority of cases this machine doesn't require any intervention at all to produce great results. We love it!"
Mr. Tetley concludes, "the BSF with the PowerSquare is not just our 'go to' machine when it comes to larger paginations, it also does a great job without square backing for short run bespoke finishing jobs at very low paginations."