We have a modular approach: start with a booklet maker and add as many modules and options as you need to create the perfect solution tailored to your needs. Automatic job set ups and full integrity check, production of 4 jobs at the same time, non-stop production and extra stitching possibilities such as four loop stitch heads (to use booklets in a ring binder) are example of upgrades you can go for.
All our In-Line booklet making solutions are aimed at stitch-fold-trim finishing production in digital on-demand and web-to-print environments. They are able to operate "24/7" at the full-rated speed of your printer/press. They work seamlessly with the right-to-left or left-to-right paper path and Duplex 2-up formats of a growing number of digital printers/presses.
What is particularly amazing about these In-Line solutions with Kodak Digital Production Systems ?
It's the best way to optimize your asset utilization for diverse and short-run job streams production. Skilled operators can be reasigned to perform higher-value tasks.
Add accessories whenever you want to gain in flexbility and automation. Our solutions adapt to your need today - and tomorrow!
Bourg Booklet Making solutions
Compatible Kodak Digital Production System
BDF-e
Kodak Digimaster Series (HD125, HD150, HD300)
BM-e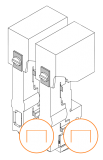 2 Deluxe Stitch Heads
BM-e Booklet Maker family (Stitch-Fold) with 2 Deluxe Stitch Heads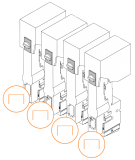 4 Deluxe Stitch Heads
BM-e Booklet Maker family (Stitch-Fold) with 4 Deluxe Stitch Heads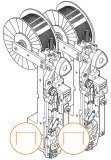 2 Hohner Stitch Heads
BM-e Booklet Maker family (Stitch-Fold) with 2 Hohner Stitch Heads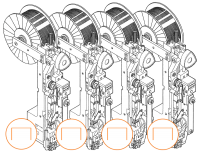 4 Hohner Stitch Heads
BM-e Booklet Maker family (Stitch-Fold) with 4 Hohner Stitch Heads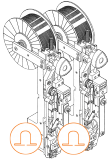 Quick changeover kit to get 2 Hohner loopstitch heads on BM-e
(this kit includes 2 heads with loop configuration)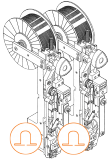 BM-e Bourg Kit to upgrade BM-e 2 regular Hohner heads to L6 loop stitch configuration
(this kit does not include heads)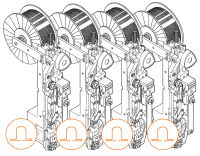 BM-e Bourg Kit to upgrade BM-e 4 regular Hohner heads to L6 loop stitch configuration
(this kit does not include heads)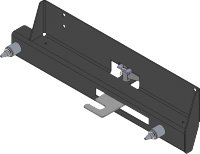 Docking Plate for In-line BM-e 2 Dir
Docking Plate for In-line BM-e 2 Dir
Docking Plate 1020 mm for BM-e / BDF-e
Docking plate between edge registered high output Xerox printer (DocuTech, DS5000) and BM-e / BDF-e
BM-e Spare Parts Kit
BM-e Spare Parts Kit
BM-e air assist kit digital paper booster
BM-e air assist kit digital paper booster
Bourg Box Communication Interface
Bourg Box Communication Interface
E-Series Tricolor Mast Kit
E-Series Tricolor Mast Kit